The RE/MAX Canadian National Spring market trends report for 2016 is out.
Read the full report on all major centers in Canada at the link below. We have provided an excerpt of the Edmonton, AB real estate market updates below.
EDMONTON EXCERPT: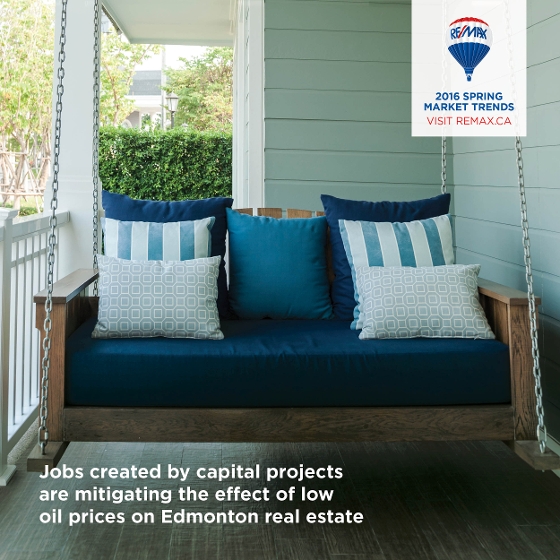 Average Residential Sale Price = $364,334 (down 1%)
Edmonton's housing market has slowed down slightly as a result of the downturn of Canada's oil and gas sector. Sales were down nine per cent yearover-year in the first quarter of 2016 and the average residential sale price declined slightly, from $367,648 to $364,334.
Despite the slowdown in the market, there are segments still seeing activity. Single-family homes witnessed the most demand, with first-time and move-up buyers benefiting from increased affordability. At the same time, buyers looking to downsize from luxury homes have increased demand for properties in the $400,000 to $500,000 range.
Ongoing infrastructure projects in the city have helped keep employment relatively steady compared to other parts of the province. Edmonton's employment rate has remained on par with the rest of Canada as work continues on the new Rogers Arena, the Royal Alberta Museum and a number of new office buildings.
FIRST TIME BUYERS
Half-duplexes and townhouses are a popular option for first-time buyers in the city who are motivated by low interest rates and greater affordability due to softer prices. Home ownership remains a priority for young families and single millennials in the region. As a result, activity in the market for properties under $400,000 remains brisk.
CONDO MARKET
There is an excellent selection of condos as a result of increased supply with approximately eight months of inventory on the market at the start of 2016. Sales activity was down 15 per cent in the first quarter of the year with 824 condo units sold.
LUXURY HOMES
There is good selection for properties over $1 million in Edmonton, providing opportunities for buyers to enter the luxury market. New builds close to the city centre with access to the River Valley as well as estate lots that are farther out from the downtown core typify what buyers in the upper-end market are looking to buy.
FUTURE TRENDS
Recently approved extensions to Edmonton's light rail transit system are expected to help keep demand stable.
As many of the city's infrastructure projects near completion throughout 2016, the price of oil is expected to have an increased role in consumer confidence.